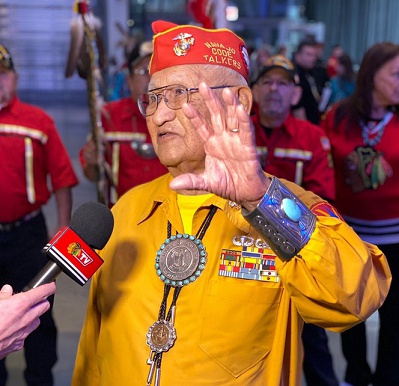 Navajo Code Talker Thomas Begay
In recognition of Native American Heritage Month, members from three affiliated tribes in the U.S and Canada (Nakota, Ojibwa, and Cree) performed at the United Centre, before a Blackhawks game.
Representing Alberta was Women's Fancy Dancer, Berta Kakinoosit from Sucker Creek.
"Never in my wildest dreams did I ever think growing up that i ..this Bush girl...would have thought for a second I would be getting the opportunities I have been givin...with my work..with my LIFE..with My Style ...I'm beyond grateful to get chosen to go dance ..represent My territory....my people...MY NATION and un believably " The BlackHawks " ... at a NHL game!! My red fringe will fly...my moccs will kick..and my spirit will dance"
https://twitter.com/NHLBlackhawks/status/1196934464531767296
https://twitter.com/NHLBlackhawks/status/1196934464531767296