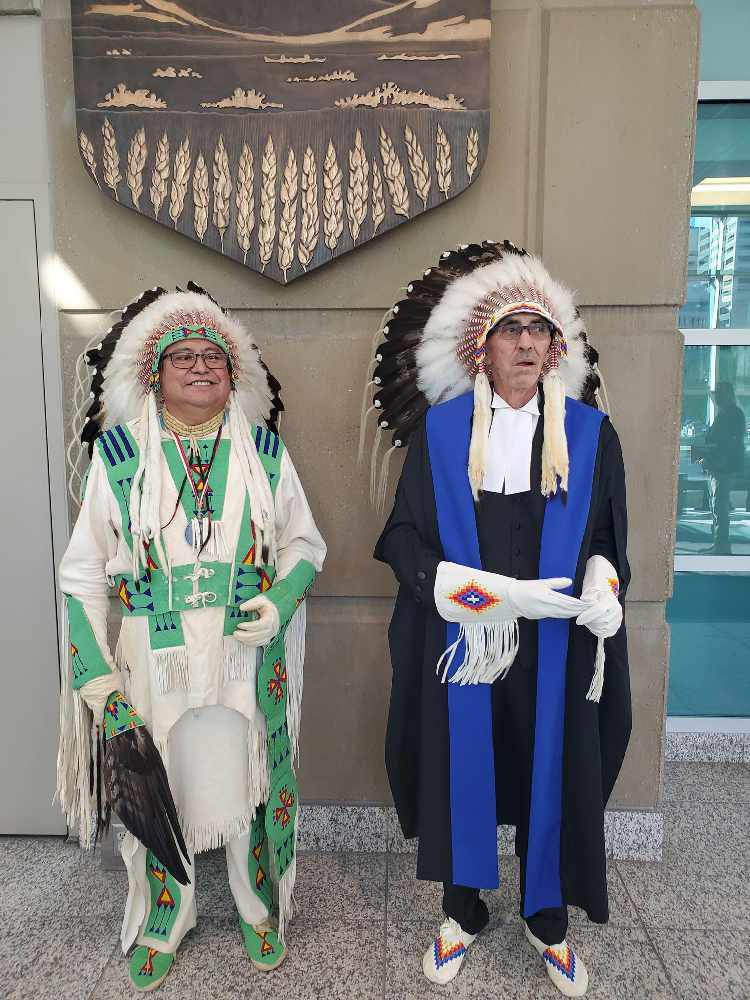 Traditional knowledge keeper Leonard Bastien and provincial court Judge Eugene Creighton ( Photo: Tony Delaney )
"We don't have a word for crime, our word is mistake." - Judge Eugene Creighton of the Blackfoot language
The Calgary Indigenous Court officially opened Wednesday with a blessing, cleansing of the courtroom and the dedication of an eagle feather to be used for oaths.
Sitting weekly in Courtroom 1800, the court will deal with bail and sentencing hearings, with a focus on a restorative justice approach to crime through peacemaking and connecting accused people to their cultures and communities.
Traditional Knowledge Keeper Leonard Bastien from Piikani First Nation and provincial court Judge Eugene Creighton from the Blood Tribe, hosted the ceremony.
The event also marked Judge Creightons last day on the bench, after deciding to retire due to health reasons. He has served since 2009.
The courtroom will have participants sitting in a circle and at the same level. There is also an eagle feather for oaths and special ventilation to allow for burning sweetgrass.
Four judges who are either Indigenous or have deep ties to First Nations communities will preside over the court. The assigned prosecutor will also be Indigenous.
Judges, Calgary's police Chief and provincial representation, attended the ceremony Wednesday.
Agencies, like the Elizabeth Fry and John Howard Societies, Aboriginal Friendship Centre of Calgary, homefront and CPS, will work together to offer supports and programs to those who need it.