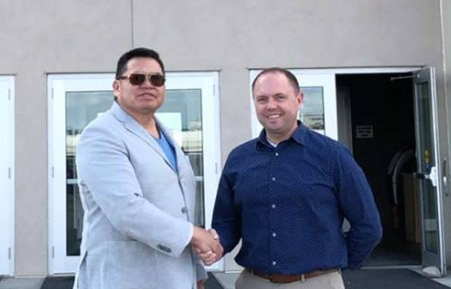 CIRRA President Dexter Bruisedhead and Managing Director Paul Renvenld
The Canadian Indian Relay Racing Championships are set for Aug. 31 to Sept. 1.
The Canadian Indian Relay Racing Association will be held at century Downs this fall, with a prize purse of over $58,000
In a statement, The association put a call out on social media for a venue to host the finals. Century Downs was the top bidder.
Indian Relay is a sport that involves racing bareback on thoroughbred horses, with the rider jumping from one horse to another after each lap for three rounds.
Stoney Nakoda Chiniki band member & executive member of the association, Wyonah Snow-Wolftail, is pushing forward the motion of dedicating the 2019 Canadian Indian relay racing season to missing and murdered Indigenous women.