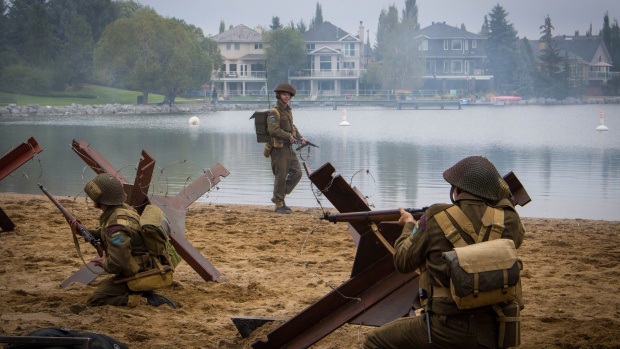 Filming took place in Fall 2018 at Calgary's McKenzie Lake and Heritage Park. (Courtesy Historica Canada)
June 6 will mark the 75th anniversary of the day that led to the end of the Second World War.
A new Heritage Minute has been released showing the involvement of a Canadian regiment.
Amidst the scenes recreating Juno Beach and the French town of Tailleville, you might be surprised to find out it was filmed in Calgary.
Scenes were filmed at MacKenzie Lake, which was used for Juno beach and Houses in Heritage Park historical village were utilized to portray the town of Tailleville, Normandy.
Special effects were used to re-create the battle scenes.
Other Heritage minutes that were shot in Calgary, include Winnipeg Falcons, nursing sisters, Terry Fox, and Viola Desmond