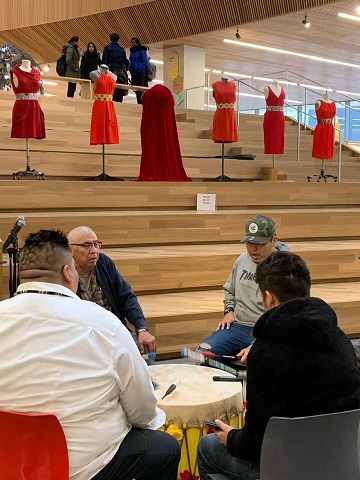 "The workshop brings awareness to the country's crisis of Missing and Murdered Indigenous Women and Girls, it also brings people from across all cultures to engage in meaningful conversations"
Red Dress Day is part of a campaign launched by Awo Taan Healing Lodge Society as a way to "provide support and awareness workshops to Indigenous and non-Indigenous people." The main goal of the event is to explain the risks that Indigenous women and girls face when it comes to sexual exploitation and trafficking.
During the event at Calgary Public Library, Attendees created a small felt doll with a red dress. Each dress is made to represent a missing or murdered loved one.
A 2014 RCMP report found that there were 1,017 homicides of Indigenous women between 1980 and 2012, though the National Inquiry into Murdered and Missing Indigenous Women and Girls "noted that the 2014 RCMP report likely underestimated the true numbers."
Photos: Alan Chamberlain