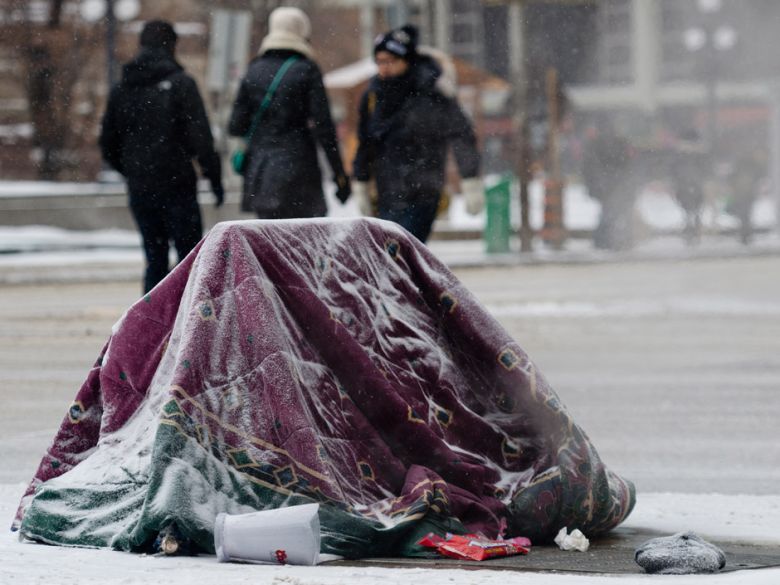 "It's about honouring people's lives and letting people heal and say good-bye."
This year, 123 homeless Calgarians died, either sleeping harshly, in shelters or from illnesses directly related to their homelessness.
On Saturday, which was also winter solstice, the longest night of the year, Calgarians commemorated 123 people who died while living on the streets in 2019.
The memorial, organized by Client Action Committee and Calgary Homeless Foundation, heard traditional drumming, poetry, a minute of silence, and a reading of all 123 names.
"Those people who died might have gone through problems like any other person, Diseases, heart attacks and strokes, and various other things, but they die younger, they die alone and they die often without access to medical services."
- Diana Krecsy, president of the Calgary Homeless Foundation.
Krescy said the foundation hopes to hold next year's vigil at a new, permanent memorial to the homeless, which will stand near 13th Avenue and 1st Street S.E., a location along paths frequented by the city's homeless population.
"This is an opportunity to have a memorial in our city, in the heart of our city, to remind people, first of all, that there are people who care. You can come to this space, grieve and mourn your friends, and have a beacon of hope that the city is doing something to get people out."
Sydney Gill shared with the crowd that a friend of his had passed away before performing. #longestnightyyc #yyc pic.twitter.com/X66agfJ1ul

— Taylor Braat (@TaylorBraat_) December 21, 2019