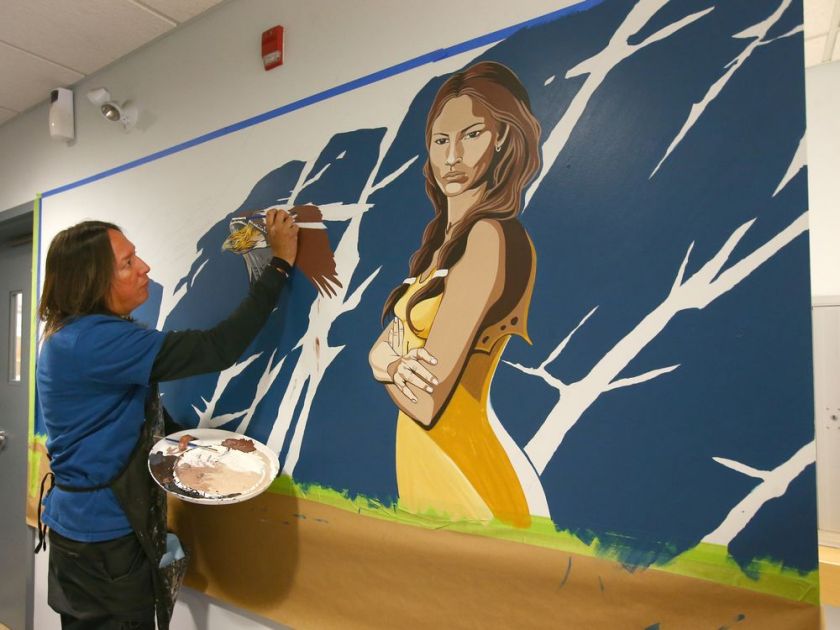 Artist Kalum Dan completes his painting in the main area at the Brenda Strafford Centre
"It is extremely important to us to meet the needs of Indigenous families affected by violence and walk alongside Indigenous experts in our community to inspire cultural resurgence and reconciliation among our shelter network, staff and all individuals and families we serve"
Calgary's Brenda Strafford Centre is launching a new cultural space and innovative programming to meet the needs of First Nations, Metis, and Inuit individuals and families that call the Centre their home.
The Centre has seen an increase in Indigenous families seeking violence intervention services; currently representing 27% of those seeking services at the Centre despite making up 6.7% of the province's female population.
The designated cultural space is undergoing finishing touches at the Centre that provides housing and supportive services for up to 85 families and 115 children at risk of violence at any given time.
Some of the new programs the centre is launching this fall are The Bird / The Pîyesîs sessions, a programming series that inspires reconciliation. The series will include beading and ribbon skirt making classes, a blanket exercise and more that builds on current programming of a sharing circle and Elder visits.
The Centre says that they are striving to improve and expand its Indigenous programming to better meet the needs of its large and diverse clientele.

In 2018, the Brenda Strafford Centre served 139 adults and 196 children and youth at risk who have experienced family violence by providing them with safe housing and supportive services such as trauma-informed counselling, respite childcare, access to life's essentials, financial assistance for education and more.
Visit the centres website for details on programs.