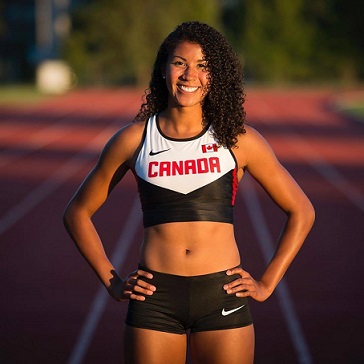 The International university sports federation world University games run July 3-14 in Italy
Joy SpearChief-Morris from the Kainai Nation is a Canadian 100m hurdler who has her sights set on the Tokyo 2020 Olympics.
The University of Western Ontario graduate took some time to train in California after finishing her undergraduate degree, but she's back in Alberta and excited about training at home.
In July, the Blackfoot Athelete will compete at the upcoming FISU World University Games in Naples, Italy this July for the Team Canada Track team.
Some of her many accomplishments include:
2x Ontario University Athletics (OUA) Female Track Event Most Valuable Performer (MVP) (2016-2017)
8x Team All-Star at the Ontario University Athletics (OUA) Championships (2015-2017)
5x Academic All Canadian achievement (2012-2017)
2017 - Don Wright Trophy Award Winner for Western University Track and Field
2014 - North American and Caribbean Athletic Championships (NACAC) U23 Canadian National Team Member; silver medal 4x100m
Details about the FISU Games
Follow SpearChief's journey on her website