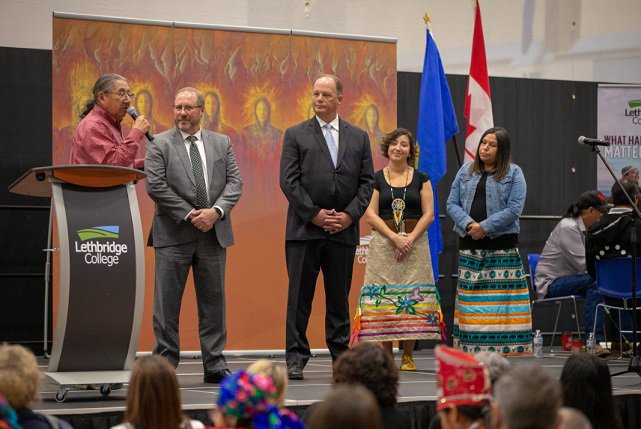 Photo Courtesy of Lethbridge College
Camrud was given the name "Saakooaapaspii" which means Last Dancer. Brown received the name "Aatowahkskaakoo" which means Long Time Many Camps.
Two long-time supporters of Indigenous education were honoured with Blackfoot names during Lethbridge College's Indigenous Celebration Day on October 17.
Doug Camrud and Mark Brown of RBC were bestowed names by the college's Kainai Kaahsinnoonik (Grandparent) Peter Weasel Moccasin in recognition of years spent furthering Indigenous education.
Brown is the regional VP – Alberta South for RBC and Camrud recently retired as RBC's main Lethbridge branch manager.
RBC began a partnership supporting Indigenous education at Lethbridge College in 2007, and has since provided nearly $600,000 to support Indigenous initiatives, events and programming. Beyond the partnership, both men have made genuine connections to the local Blackfoot community, taking time to learn about the culture, to talk to Grandparents and students, and to learn about what it means to be on Blackfoot territory.
Indigenous Celebration Day featured traditional music, dancing, food and cultural displays.
This fall, more than 300 Indigenous students are taking diploma, degree or certificate programs at Lethbridge College.
"They are both frequent visitors to campus who believe education should be accessible to everyone. They have taken hands-on roles in learning how they can support Indigenous students and have immersed themselves in learning about Blackfoot culture, so they are very deserving of these honours."
- Dr. Paula Burns, Lethbridge College President and CEO.