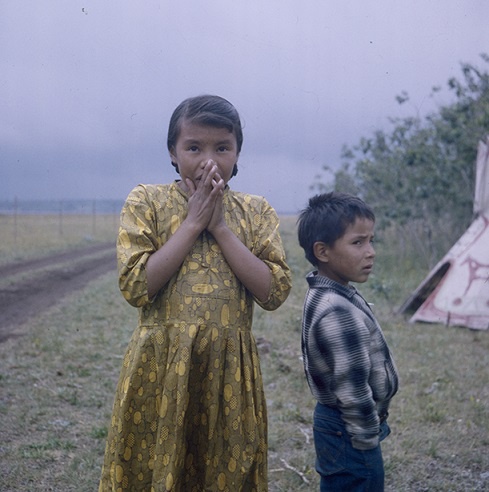 Young girl and boy standing on grass, between a teepee and a dirt road, Ghost River, Alberta, ca. 1962 © Library and Archives Canada
"I am not so much interested in photographers who fly in, fly out of communities. I'm interested in photographers who spend time at a place, actually know the people, and as that happens, people become more comfortable with the camera."
Turning the Lens: Indigenous Archive Project is a photography/history exhibition; a naming project; a social media campaign and an opportunity contemplate the role and importance of galleries, museums and archives across Canada.
The exhibition is the result of a long-standing social media and research project undertaken by Paul Seesequasis, a Plains Cree writer, journalist, and cultural activist based in Saskatoon.
In 2015, Seesequasis began collecting archival images of everyday life among First Nations, Metis and Inuit communities from the 1920s through the 1970s. Sharing these on social media resulted in the identification of the individuals, places, events and stories that had largely eluded institutional catalogues.
Turning the Lens features images of Indigenous peoples from 1950's – 1960's taken by the photojournalist, Rosemary Gilliat Eaton, on loan from Libraries and Archives Canada, as well as a selection of photographs taken by Arnold Lupson, courtesy the Glenbow Archives, Archives and Special Collections, University of Calgary.
Arriving in Calgary around 1919 from England, Lupson photographed members of the Sarcee (Tsuut'ina), Blood, Peigan, Blackfoot (Siksika) and Stoney Nakoda peoples of southern Alberta.
"It's not a sad story, but more of a tribute"
Turning the Lens runs until Dec. 14 at Nickle Galleries, 10 University Ct NW in Calgary