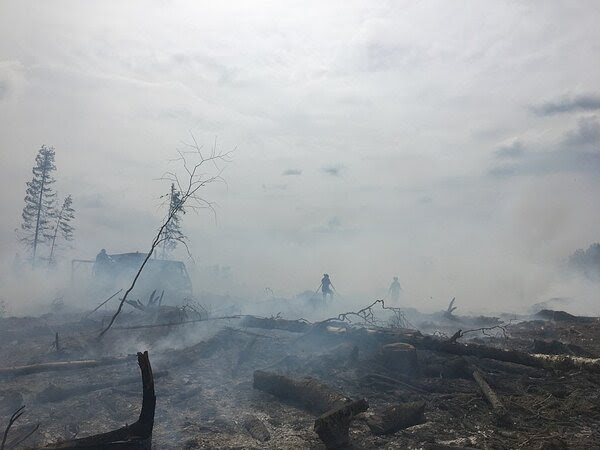 McMillan Wildfire
Since the start of the wildfire season on March 1st, there have been 112 wildfires and 266,265 hectares burned in the Slave Lake Forest Area.
The forecast update Wabasca region for Tuesday June 17 is that the winds are to shift towards the community.
Due to this forecast, fuel conditions are extreme with winds gusting west southwest at 25-50 km.
The evacuation alert is being updated to a 4 hour alert as a precautionary measure.
The Emergency Command Centre has relocated to the Lakeview Sports Centre in Wabasca.
The wildfire danger is HIGH to VERY HIGH in the Slave Lake Forest Area.
There hasn't been significant amount of rain that would bring long term relief to the dry conditions in the forested areas. The small amount of rain received has dried up quickly. Under the current dry conditions, a fire will ignite easily and spread very quickly. Firefighters are urging everyone to use caution and report wildfires immediately by calling 310-FIRE or #FIRE on your cell phone.
Thundershowers with lightning are expected to move through the area over the next 24 hours. Firefighters in helicopters, airtankers and heavy equipment are ready to fight any new wildfires that may start.
The Fire Ban and OHV Restriction remain in place for areas north of Lesser Slave Lake.
New Wildfire Starts
There was one new wildfire start yesterday. The wildfire was quickly contained and firefighters are working to extinguish it.
SWF-109 started on June 14th and is located eight kilometres northeast of the town of High Prairie.The wildfire is classified as under control and is 2.0 hectares. Nine firefighters with a helicopter are working to extinguish it.
SWF-102 started on June 9th and is located 1.3 kilometres west of the Chip/Alpac Road at approximately kilometre 45. It is 193 hectares in size and classified as under control. There are 16firefighters and three helicopters are working to extinguish it.
SWF-090 started on June 2nd and is located 18 kilometres northeast of Trout Lake. It is 187 hectares and classified as under control. There are 16 firefighters and two helicopters working to extinguish it.
There has been an increase of fire activity on the SE section of the Chuckegg Creek fire parameter - on the west side of the river, north - northwest of Tomkins region.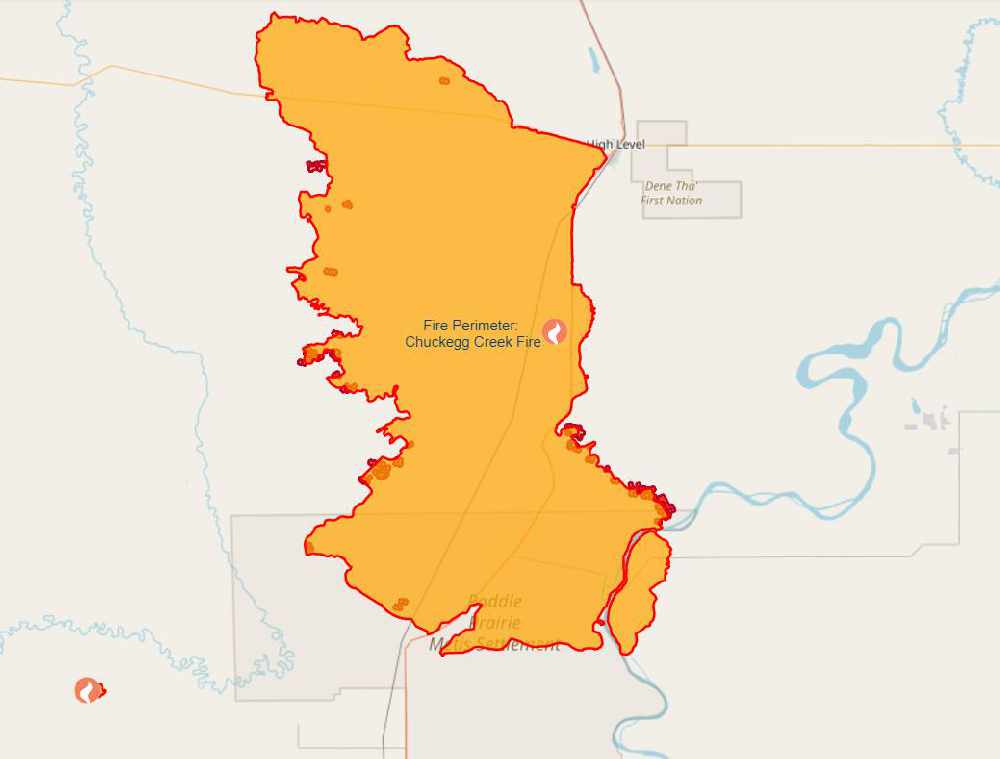 McMillan Wildfire Complex
Alberta has received support from firefighters and support staff from British Columbia, Saskatchewan, Quebec, Ontario, New Brunswick, Parks Canada, Idaho, Montana, Utah, Nevada and Oregon.
This week, Winds will be south/southeast, so communities in Trout Lake and Peerless Lake may experience smoke passing through.
Crews will continue to work along the eastern edge of the fire northwest of North Wabasca Lake with support from helicopters and heavy equipment building dozer guard.
Crews and helicopters are also working on the north side of the fire to limit spread to the north and west.
As we continue to work towards containment, laying hose across priority areas and extinguishing all hot spots 30 metres in from the fire perimeter will remain a priority.
Structure protection remains in place in the communities of Trout Lake, Wabasca, and Bigstone Cree Nation.
There are 555 firefighters and support staff, 44 helicopters, airtankers, and 41 pieces of heavy equipment fighting this wildfire.
SWF-049 remains approximately:
4.9 and 3.3 kilometres west of Wabasca No. 166B and 166D
26.5 kilometres northeast of Marten Beach
32.8 kilometres northeast of Slave Lake
9.3 kilometres southeast of Trout Lake
Of the three wildfires in the McMillan Complex, two are under control and one is out of control. SWF-049 has burned into SWF-079 as these fires were in close proximity to each other.
Note: wildfire sizes are subject to change as more accurate readings of the perimeter become available.
SWF-049 is 265,245 hectares and is classified as out of control.
SWF-078 is 137 hectares and is classified as under control.
SWF-099 is 2 hectares and is classified as under control.