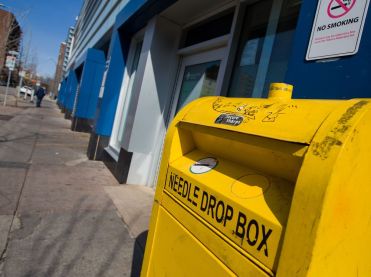 Panel members include Edmonton's former police chief, a mother who lost her son to a fentanyl overdose, and addictions specialists.
The review will look at the social and economic impacts of current sites, and is holding engagement sessions in areas with either currently operating or proposed sites.
The eight members of the committee include:
Chairman Rod Knecht, former Chief of Edmonton Police Service
Professor Geri Iininaatoáákii Bemister-Williams (vice-chair)
Dr. Charl Els, a psychiatrist and addiction specialist
Joan Hollihan, a mother who lost her son to opioid abuse
Dr. Rob Tanguay, a psychiatrist and pain medication specialist
Dr. Ray Baker, expert on addiction, medication and recovery-oriented care
Economist Paul Maxim
Steve Comack, business leader
Public engagement sessions will take place over three weeks in September in the following cities;
Medicine Hat: Sept. 3, 5 to 9 p.m. at Heritage Ballrooms A and B, HomeStay Inn and Suites, 954 Seventh Street S.W.
Lethbridge: Sept. 4 and Sept 5, 5 to 9 p.m. at Grand Ballroom, Coast Lethbridge Hotel and Conference Centre, 526 Mayor Magrath Drive South.
Red Deer: Sept. 10, 5 to 9 p.m. at Santano Room, Cambridge Red Deer Hotel and Conference Centre, 3310 50th Avenue.
Calgary: Sept. 11 and Sept. 12, 5 to 9 p.m., at Boyce Theatre, BMO Centre, 1410 Olympic Way S.E.
Grande Prairie: Sept. 17, 5 to 9 p.m., at Grande Ballroom, Pomeroy Hotel and Conference Centre, 11633 100th Street.
Edmonton: Sept. 18 and Sept. 19, 5 to 9 p.m., at Wildrose Ballrooms 2 and 3, Edmonton Inn and Conference Centre, 11830 Kingsway Avenue N.W.
.
The committee will hear feedback on topics including crime rates, needle debris and residential property values.
You can pre-register for the sessions, or submit written feedback online. Feedback can also be sent to scsreview@gov.ab.ca
The reports findings are expected to be submitted to government later this fall.
The online survey will be open until September 30. Make sure the Review Committee hears your voice. https://t.co/xfd9PkcHBA

— Tyler Shandro (@shandro) September 1, 2019