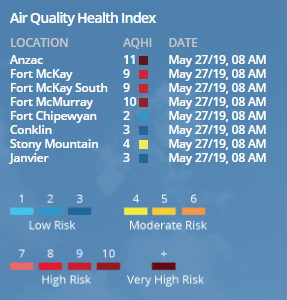 Smoke from wildfires in northern Alberta is causing poor air quality and reducing visibility in some areas.
The smoke from the massive wildfire near High Level is drifting across Northern communities, prompting warnings from Environment Canada.
Several air quality warnings have been issued for towns in northern Alberta, with the air quality index for Anzac at 11, Fort McKay sitting at 9 which is extremely high.
Children, seniors and people with respiratory issues are especially at risk and are advised to stay inside in a place that is cool and ventilated.
See advisories here
AQHI Risk Alert: Fort McKay South - Very High. https://t.co/wF9oVAb2gL

— Wood Buffalo Environmental Association (@theWBEA) May 27, 2019