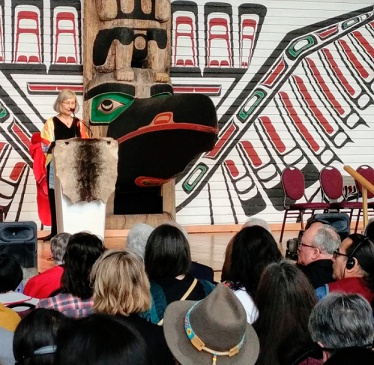 Chief Commissioner Marion Buller says the inquiry listened to 2,380 family members, experts, knowledge keepers and it is the families who will now rewrite history
Some of the recommendations include developing an effective response to human trafficking cases and sexual exploitation and violence
The chief commissioner of the inquiry into missing and murdered Indigenous women and girls told survivors and families on Monday they have started to rewrite Canadian history.
The tragedy Marion Buller said, is a direct result of a "persistent and deliberate pattern of systemic racial and gendered human- and Indigenous-rights violations and abuses, perpetuated historically and maintained today by the Canadian state, designed to displace Indigenous people from their lands, social structures and governments, and to eradicate their existence as nations, communities, families and individuals."
The ceremony marks the release of the much-anticipated inquiry, which contains more than 200 recommendations to multiple levels of government.
It calls the violence against First Nations, Metis and Inuit women and girls a form of "genocide" and a crisis "centuries in the making."
The report calls for action in areas including justice and health, suggesting that health-service providers develop programs that could help young people recognize the signs of being targeted for exploitation.
The recommendations include developing an effective response to human trafficking cases and sexual exploitation and violence, including in the sex industry. Additional calls include the need to establish a national Indigenous and human rights ombudsperson and a national Indigenous and human rights tribunal.
It also recommends the development of a national action plan to ensure equitable access to employment, housing, education, safety, and health care, as well as long-term funding for education programs and awareness campaigns related to violence prevention.
The report also strongly focuses on the need for actors in the justice system and in police services to acknowledge that the historical and current relationship with Indigenous women, girls, and two-spirit people has been largely defined by "colonialism, racism, bias, discrimination, and fundamental cultural and societal differences."
Missing and murdered Indigenous women are believed to number in the thousands in Canada, but the report says that despite the commission's best efforts to quantify the extent of the tragedy, "no one knows an exact number."
In 2005, the Native Women's Association of Canada said that 582 missing and murdered Indigenous women.
In 2014, the RCMP released a national overview and pegged that number of cases between 1980 and 2012 at nearly 1,200
Read the Full report here