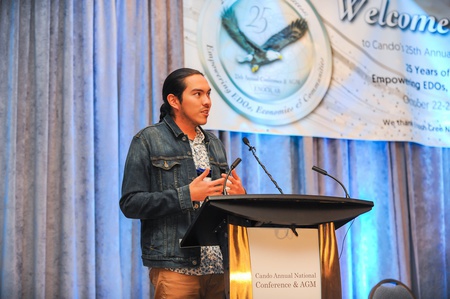 2018 Aboriginal Youth Achievement Award recipient, Wacey Little Light
Are you an Indigenous youth leader in your community? Apply for the Aboriginal Youth Achievement Award today
Are leaders in their community and among their peers
Display a strong commitment to achieving their educational goals
Support and encourage others to pursue their education
Encourage and participate in cross-cultural activities involving Aboriginal and non-Aboriginal communities​
The award is open to all Indigenous youth, including First Nations status and non-status, Métis and Inuit. Nominees must be between the ages of 14-24, attending junior or senior high school, or a post-secondary institution. As well, nominees must be living within Calgary city limits or attending a Calgary school. The award recipient will be given the opportunity to represent Indigenous youth as a member of the Calgary Aboriginal Urban Affairs Committee.
New this year, youth are able to apply for the award and bursary themselves. There is still an opportunity for someone to nominate a youth. Whether you are applying for the award yourself, or someone is nominating a youth, please ensure that you have filled out all of the sections and included all of the attachments. Incomplete forms will not be considered. No posthumous nominations are permitted.
Applications and nominations will be accepted until 4:30 p.m. on May 27, 2019. Winners will be announced on June 20, 2019 during Aboriginal Awareness Week celebrations.