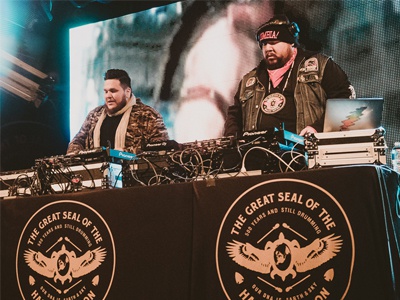 A Tribe Called Red Perform in Calgary July 12
A Tribe Called red have returned with a brand new single.
It's called "The OG" and sees the beloved duo teaming up with Black Bear, a group of Pow Wow singers and drummers from Manawan, QC.
The drum-heavy anthem also featured a psychedelic cover and animation created by Cree/Abenaki artist Nalakwsis.
The Song follows the release of A Tribe Called Red's last remix single, NDN Kars.
"The OG" was inspired by Cree lawmaker Romeo Saganash's impassioned speech inside the House of Commons last September, when he discussed the Trans Mountain Pipeline and Indigenous rights.

In addition to the new song, which you can stream below, A Tribe Called Red have announced a busy summer tour that includes stops throughout Canada, including Calgary on July 12th

Tour dates:

07/12 Calgary, AB - Calgary Stampede
07/13 Santa Ana, CA - Constellation Room
07/17 San Francisco, CA - The Independent
07/19 Seattle, WA - Capitol Hill Block Party
07/21 Portland, Oregon - Wonder Ballroom
07/22 Spokane, WA - Lucky You Lounge
07/25 Edmonton, AB - K Days
07/27 Squamish, BC - Squamish Constellation Festival
08/09 Regina, SK - Regina Folk Festival
08/11 Salmo, BC - Shambhala Music Festival
08/17 Peterborough, ON - Peterborough Folk Fest
08/18 Elora, ON - Riverfest Elora
08/21 Halifax, NS - The Marquee Ballroom
08/30 Quebec City, QC - Place de l'Assemblée-Nationale
08/31 Montreal, QC - Mile Ex End 2019
09/01 Toronto, ON - CNE


Warning Strong Language