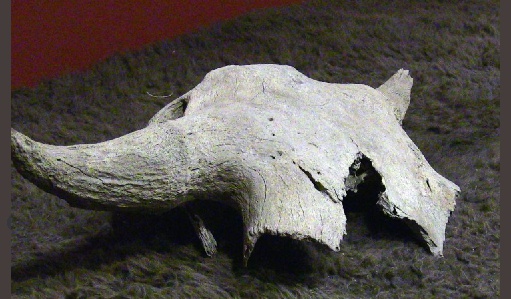 The skull will go on display at Blackfoot Crossing Historical Park in early 2020, with a full exhibit dedicated to traditional lands in the Kananaskis region, including Castle Mountain.
A more than 2,000-year-old bison skull unearthed during utility work in downtown Banff has been returned to the Siksika Nation.
On Friday, the skull was given a traditional blessing at the Blackfoot Crossing Historical Park as members of the Siksika Nation sang Blackfoot honour songs accompanied by drums and rattles.
Eldon Weasel Child is a councillor with Siksika Nation, he said the ceremony is to acknowledge the significant gift that the buffalo skull represents.
Contractors with Fortis Alberta were installing LED street lights in Banff National Park townsite in February, when they found the Skull 1.2 metres underground.
Parks Canada was immediately contacted, as was the Siksika Nation.
Carbon dating suggests the Bison skull is about 2,400 years old.