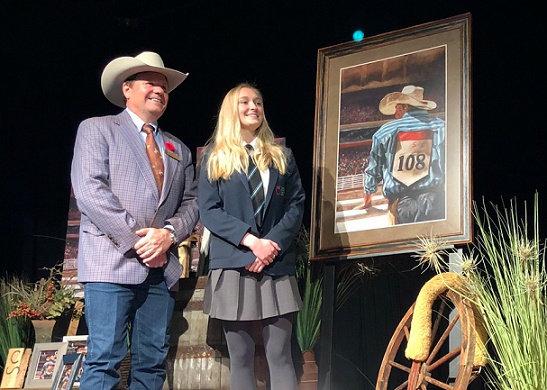 The pastel drawing offers a behind-the-scenes look at a cowboy competing in the rodeo.
As part of the Youth Poster Competition, the poster was created by 17-year-old Ariel Clipperton.
During an unveiling ceremony at the Calgary French and International School, Calgary Stampede president Dana Peers announced student Ariel Clipperton as the winner of the student poster competition. At only 17-years-old, Clipperton's artwork will be the symbol of next summer's Stampede.
The poster portrays a cowboy standing inside the Calgary Stampede rodeo grounds, looking at the crowd while wearing the number 108, to mark the 108th year of the exhibition.
As the poster artist, Clipperton will act as an ambassador for the Stampede and is awarded a $10,000 scholarship provided by the Brandon Flock Foundation.