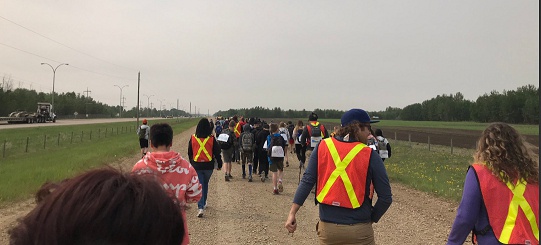 "We need to take a serious look at history, understand the colonial history, the oppression, and how it rolls out in terms, for example, of health for Indigenous people," - Dr. Patricia Makokis, coordinator with "The Walk For Common Ground"
30 walkers are on a 350km journey, from Edmonton to Calgary, to unite Indigenous and non-Indigenous people of different backgrounds with the goal of building relationships and engaging in meaningful conversations.
Participants of The Walk For Common Ground started their Trek Friday, and over the course of the journey, participants will be making stops at churches and schools, engaging in conversation about Indigenous history in Canada and the experiences of modern Indigenous people.
Walkers are expected to finish the trip in Calgary, June 14.
To learn more about the Journey, click here
#HSAAcon19 Walk for Common Ground Departure: pic.twitter.com/R2c9l4lEfk

— Health Sciences AB (@HSAAlberta) May 31, 2019