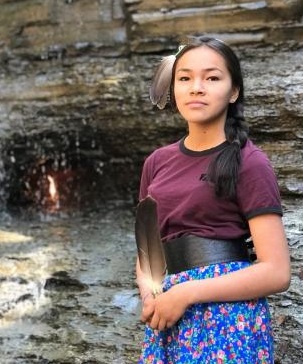 Autumn Peltier, chief water commissioner of the Anishinabek Nation
Peltier's quest to protect water started when she was eight years old when she visited a community under a boil water advisory.
A Manitoulin Island teenager will be trying to fill some big shoes as an advocate for water protection of the Great Lakes.

Fourteen-year-old Autumn Peltier was named Chief Water Commissioner by the Anishnawbek Nation, a political advocacy group for 40 nation across Northern Ontario, including First Nations along the North Shore corridor and Manitoulin Island.

Peltier's focus on protecting water started when she was just eight years old and say's it's an honour to take on the role over from her great aunt, Josephine Mandamin, the founder of the Mother Earth Walk.
The Teen recognized the important role Josephine played in helping establish the Great Lakes Guardian Council, as well as advocating for protecting the Great Lakes and other waters, since then, she has had meetings on the importance of clean water with the Prime Minister and the Assembly of First Nations.
Peltier says before Mandamin died, she asked her to continue working to protect water.
"I'm going to carry on her work until we don't have to anymore," she said.
In 2018, Peltier spoke to world leaders at the United Nations about water protection.